Faire l'histoire/Making History,
en partenariat avec/In collaboration with :
La faculté d'éducation de l'Université d'Ottawa présente/
The faculty of Education presents: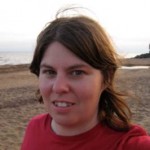 Professeure Catherine Duquette
Université du Québec à Chicoutimi (UQAC)
8 mars 2012, 10h30
Faculté d'éducation/Faculty of Education
Lamoureux 477
(conférence bilingue/bilingual lecture)
À l'Université du Québec à Chicoutimi, Catherine Duquette est professeure adjointe en didactique de l'univers social au département des sciences de l'éducation.
Graduée de l'Université Laval en 2010, la professeur Duquette s'intéresse aux rapports qu'entretiennent les jeunes d'aujourd'hui avec l'histoire. On lui attribue plusieurs définitions, tant sur le plan de sa nature que sur ses liens entretenus avec la pensée historique. Si de nombreuses recherches soulignent l'importance de la conscience historique dans le processus de compréhension de l'histoire, aucun auteur ne définit clairement le rapport qu'elle entretient avec la pensée historique. En somme, de quelle manière la conscience historique influence-t-elle le développement de la pensée historique chez les jeunes et vice versa?
A l'instar de ces travaux au doctorat, Catherine Duquette nous présentera sa conception particulière de la conscience historique dans le développement des étudiants au niveau secondaire.
—————————————-
Catherine Duquette is Assistant professor of social science didactics in the sciences of education department, Université du Québec à Chicoutimi.
A graduate from Université Laval, professor Duquette is interested in the relationship that young people entertain with the past. The notion of "Historical consciousness" is often employed in the literature but has remained an obscure concept. Professor Duquette is credited for her innovative work on the precise nature of this relationship: in what way does historical consciousness influence the development of historical thinking of young people, and vice versa?
Building on her recent doctoral thesis, Catherine Duquette will present new and vital ideas on the subject in relation to her works with high school students.